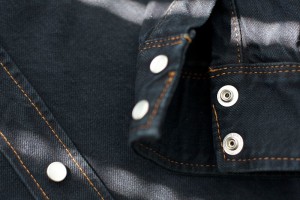 When you need airport transportation this fall, just tap the cuff of your denim jacket to call us.
Google and Levi's have recently shown off a new joint project- a $350 smart jean jacket. The new smart jacket which allows the wearer to control their mobile device at the swipe of a cuff is aimed at cycling commuters and will be available for purchase this fall. The jacket was initially announced in 2015 and officially introduced at SXSW in Austin a few days ago.
The denim jacket has technology woven into its fibers. Thin metallic alloys are combined with natural and synthetic yarns, thus touch-sensitive interactive fabric is created. The users are able to take phone calls, get directions and check the time, by only tapping and swiping their sleeves and the user interface is mostly drag and drop, making it extremely easy to set up.
The information is delivered to the wearer through their headphones so that they can keep their eyes on the road without having to fiddle with buttons or screen. The smart fibers are powered by a sort of smart cufflink that has a two-day battery life. The Bluetooth device can be easily unclipped and charged via USB. The smart fibers are washable. However, you have to remove the cuff from the sleeve before you throw the jacket in the washing machine.
Although the smart Commuter looks like any other piece from Levi's' line of denim jackets, the existence of such a technology is telling about where the market is going.
What a comfy way to call us, just by tapping the cuff of your sleeve.