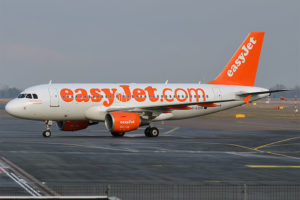 EasyJet is planning to have electric planes by 2030 that will cover short-haul routes.
EasyJet, the British-based budget airline, has promised to develop a fleet of electric planes to cover short-haul routes by 2030, which would effectively reduce carbon emissions and noise from its operations.
Last year, Europe's number two low-cost carrier after Ryanair announced it was aiming to use the lower-noise electric aircraft by 2027 through its partnership with Wright Electric, a start-up U.S. company. Founded in 2016, Wright Electric already has built a two-seater electric plane and is planning to debut a nine-seater next year. It is currently applying for a patent on a motor for an electric airliner.
Wright Electric predicts electric planes will undoubtedly be up to 50% quieter and 10% cheaper than traditional aircraft for airlines to buy and operate. Wright Electric CEO Jeffrey Engler said that they were excited about the future and they were looking forward to helping introduce low-emissions and low-noise aviation. Given the continuing rise in the price of jet fuel, many airline operators would welcome a way to cut emissions, noise and travel costs.
Several high-profile engineering companies are currently working on electric aircraft. Boeing, use an engine turbine from the French Safran Group to build a motor for a hybrid plane, while Siemens in collaboration with Airbus has been focusing on developing electric motors for airplanes.
According to clickorlando.com