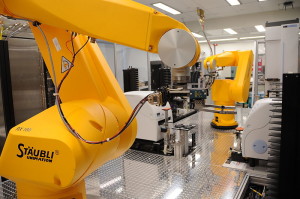 An army of robots is being built to work in Tesla's "alien dreadnought" factory. Pictures that leaked online show hundreds of robot workers that will build Model 3 being set up.
Tesla's chief executive, Elon Musk, once said that when his factory becomes an "alien dreadnought", the company "will be ready to support mass production of the Model 3."
Tesla has just received a massive order from the German manufacturer of industrial robots Kuka Robotics. The bright orange Kuka robots will be used to build Model 3 electric cars.
Pictures that recently went viral on the Internet, show hundreds of robots being unpacked and lined up. Sources claim that 467 robots are ready for deployment.
Each of the Kuka robots costs between $50,000 and $500,000. They are able to manage multiple tasks like switching adapters or moving across multiple axes.
At present Tesla uses 580 giant robot arms for in the production of Model S and Model X cars. However, the new robots will help to automate even more the manufacturing process.
The vehicles currently move down the production line at 5 centimeters per second, says Musk and he claims it is 'very slow'. The new robots will bring about twenty times increase in speed.
People will not work in the production process, but there will be people working in the factory. They will oversee the robots and make sure everything is running properly.