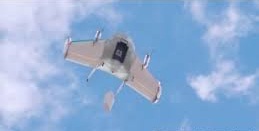 Google doesn't seem content with just organizing the entire world's information; they want to organize the entire world.
Only a few days ago, GoogleX, a division of the US-based tech giant, dedicated to major technological advancements, revealed officially the existence and substance of Google's drone-delivery program, Project Wing.
Nicholas Roy, founder of Project Wing, admitted that the project has been running for two years but it was kept in secret until now.
Drone deliveries trials have been held in Queensland, Australia's north-eastern state. Google released a You Tube video showing how Australian farmers were delivered packages of food, cow vaccines and first-aid kit.
Google's drone is 2½ feet high and has four electrically-driven propellers. It weighs almost 19 pounds. The total weight, including the item to be delivered, is 22 pounds. The drone can take off and land without a runway and is capable of flying pre-programmed routes at altitudes of 200 feet.
Nick Roy told media that the drone has onboard cameras, radios, GPS system and many other sophisticated sensors allowing the craft to fly autonomously. The drone's system will detect birds and power lines and will make the necessary flight adjustments.
As long ago as last year, Google's rival Amazon announced it was testing self-flying drones to deliver goods. Only a few months ago, the e-commerce giant asked the US Federal Aviation Administration for permission to conduct outdoor tests.
GoogleX director Astro Teller said that using self-flying vehicles for deliveries can be life-saving in emergency situations such as flood, earthquake or tornado, where delivering medicine or other supplies to people who are in need can be very valuable.
According to Google, self -flying vehicles could open up entirely new options to moving things around- faster, cheaper, and in a more environmentally-friendly way.