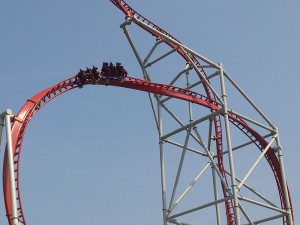 The theme parks' rides are pushing and elbowing for the titles of "world's fastest" or "world's tallest". By using new technologies, engineers are trying to provide the thrill-seekers with immersive and more unique experiences.
New Jersey's Six Flags Great Adventure has just opened the world's tallest drop tower that is part of the iconic Kingda Ka roller coaster: the riders plunge 415 feet straight down at 90mph.
Falcon's Fury's tower at Busch Gardens Tampa amusement park is considered the most frightening drop tower in the world. The riders are being thrown facing the ground from 335 feet tower.
Let's not forget Ihu's Breakaway Falls at Aquatica SeaWorld's Waterpark, Orlando, the only multi-drop tower of its kind, the tallest and the steepest in the South and offering one of the scariest rides and an adrenaline rush like no other. What about the Verrückt Meg-A-Blaster in Kansas, taller than Niagara Falls and the world's tallest and fastest water slide… for now?
However, it is true that the record-breaking rides are facing some drawbacks.
Robert Niles, the editor of Celebration, Florida-based ThemeParkInsider.com which is an online consumer's guide to theme parks said that instead of making an attraction more sought-after by having it achieve some type of record, the theme parks are actually limiting the audience for it.
According to Bret Ulozas that is the New Jersey regional representative for American Coaster Enthusiasts in Grand Prairie, Texas, everybody is trying to outdo each other because for marketing purposes it's the best thing to say they have the biggest, tallest or fastest ride; however, the higher the ride is, the more expensive it gets. Six Flags, for example, does not release how much it spends on building rides.
"When you see the success Universal is having with its Harry Potter attractions, I think there's a pretty strong demand for story-driven theme park entertainment as opposed to just physical thrills," said Robert Niles.
Jim Seay, president of Premier Rides in Baltimore thinks that new technologies are making the rides safer, as well as more unpredictable and highly personal, and they will make you feel as if you're part of the attraction.