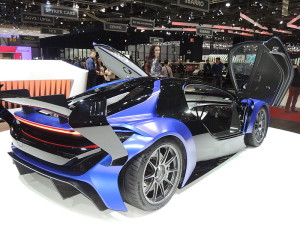 Giorgetto and Fabrizio Giugiaro will join the Chinese supercar manufacturer Techrules.
After his resignation from Italdesign, Giorgetto Giugiaro sold his company to Volkswagen Group. He has recently started a new set up, GFG Projetti, along with his son Fabrizio.
Giorgetto and his son are among the most famous automobile designers in the world. Giorgetto was responsible for the design of icons such as the Ferrari 250 Berlinetta Bertone, the Maserati Bora and BMW M1. He founded his company Italdesign in 1968 and had been running it for 48 yers when in 2015 the Volkswagen group bought him out.
The new Giugiaro's company has recently signed an agreement with the Beijing-based Techrules to develop the design of the GT96, a supercar featuring a unique extended-range turbine-recharged electric powertrain.
The name of the vehicle is Techrules GT96, where the GT stands for "gas turbine" which is the propulsion system of the car. The project is called TREV, which comes from Turbine Recharged Electric Vehicle. The car's performance will be outstanding. TREV is expected to deliver 1,030 hp with a range of over 1,200 miles per fill-up, when running on both turbine and electric power. It will accelerate from 0 to 60 miles in 2,5 seconds.
Techrules has also hired the high-profile production specialist L.M. Gianetti. His facilities in Torino, Italy a ready to produce 25 units a year and full production is planned to begin in two or three years. The first vehicle is expected to be launched at the next year's edition of the Geneva motor show, in March 2017.