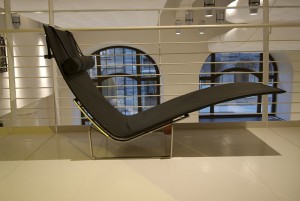 Check Out The 108M Megayacht With Private 'Beach' Onboard
The superyacht concept, dubbed The 108M, has been developed by Award-winning Norwegian design studio Hareide Design and comes with some pretty special features.
Its name comes from the form of the classic mono hull 108-meter-long (590 feet). This super boat boasts a range of luxury amenities, such as a double-story "Grand Hall" including an enormous floor-to-ceiling window for guests to enjoy unparalleled sea views. There is an elevated dining and viewing area above the main deck featuring a 20-metre pool surrounded by a garden with climbing plants and a grassed area. One of the most noteworthy features of the yacht is the aft where the deck lowers into the water and forms a private beach-like shallow pool. On the top of the yacht, there is a helipad and a separate observation deck.
The designers say that the superboat has three-hundred square meters of solar paneling effectively providing the charge for the bank of lithium-ion batteries that deliver enough sustainable power for moving along at a slow cruising speed in sensitive areas. The yacht also has diesel-electric engines for cruising at higher speeds.
All these features of the eco-friendly ship were inspired by "the beauty of nature and the elements", as the designers say. Today's mega yachts are designed like luxury hotels with glitzy interiors. The design studio wanted to create a hybrid yacht for those who want to get back to nature.