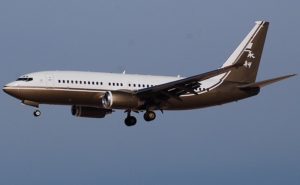 The BBJ 777- a tycoon's palace in the sky with five-star bedroom suites, gold furniture, cinema, and even own Turkish bath.
Boeing has released images of three design concepts that could be used inside its groundbreaking new 777X jets – unprecedented luxury on board that includes master suites, stylish interior design, and spacious living space.
The luxury private plane was shown at the Middle East Business Aviation Association Show in Dubai on Monday. Stunning pictures show inside the £300 million Boeing private airliner featuring plush bedrooms, futuristic style shower pods, and lavish dining rooms. Three interior design concepts were unveiled- from Greenpoint Technologies, Jet Aviation, and Unique Aircraft Design.
Earlier this year the consumer-grade 777X Jetliner was introduced for the first time- promising to be "the most efficient twin-engine jet in the world'.
It is expected to enter service in 2020, while a smaller version – 777-8, will follow soon after.
The new jet aims to combine unprecedented long-haul journeys with VIP luxury including groundbreaking ultra modern and stylish design.
The versions of the private planes, BBJ 777-8 and BBJ 777-9, can fly more than halfway around the world. The jets are designed to carry 44 people plus the crew of 11 each and feature smart glass technology.
According to The Sun.