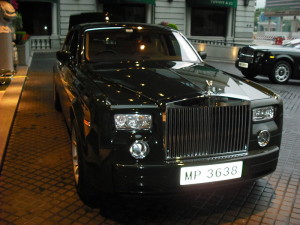 The new eighth iteration of the Rolls-Royce Phantom has been officially unveiled to the world at an exclusive media event with a red-carpet launch party in London.
Described by its makers as the most technologically advanced Rolls-Royce ever, the new Phantom has been formally revealed at an exhibition in London's top luxury neighborhood Mayfair while celebrating the last 92 years of the car.
Although at first glance, it might look like a subtle evolution of the previous-generation Phantom VII, the car is an all-new machine. The new 2018 Rolls-Royce is basically a luxury apartment on four wheels with coach doors larger than ever. Phantom VIII is the first to be built upon a fresh whole new, unique platform which definitely will form the basis of the next generation of Rolls-Royce models and features an all-aluminium 'Architecture of Luxury'. The revamped chassis comes with the newly created 6.75-liter twin-turbo V12 engine, delivering 563 brake horsepower and 900NM of torque.
The new model is capable of reaching 60 mph in 5.3 seconds and tops out at 155 mph. The manufacturer claims the new model features more cutting-edge tech than any previous Rolls. Luxury features include a complex camera system that scans the road in front of you for obstacles and automatically adjusts the suspension for the road ahead; a ZF 8-speed gearbox aided by satellite that makes impeccable shifts at any speed; a 100-percent original and new chassis specially designed to sustain the exact weight. According to Rolls-Royce, the new model is 10 percent quieter at 60 mph than the previous Phantom. The car also boasts a full glass panel, The Gallery, that is able to stretch the width of the cabin and also includes the infotainment system.
The Phantom VIII will go on sale for 375,000 euro early next year.