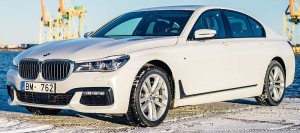 BMW will deploy a fleet of 40 autonomous cars for tests in the US and Europe by the end of 2017.
BMW made the announcement together with Intel and Modileye at the Consumer Electronics Show in Las Vegas on Wednesday.
The German automaker first announced its plans to partner with the U.S. computer chip giant Intel and the Israeli-based auto technology company Mobileye NV six moths ago. At that time, BMW AG said it was planning to have completely autonomous cars called iNEXT, suited for both city streets and highways which will be available for purchase by 2021.
The German auto group will dispatch 40 of its 7 Series sedans, equipped with Intel and Mobileye technology, on the roads of U.S. and European cities and train them to drive autonomously in urban areas.
As part of the partnership, the German automaker will be responsible for the driving control, safety and the production of prototypes.
The Israeli supplier of driver assistance systems Intel Corp. will provide its newly launched IntelGo computing platform for automated driving.
Mobileye will offer its proprietary EyeQ5 high-performance computer vision processor which provides automotive-grade functional safety and low-power performance and gets input from the 360-degree surround view vision sensors as well as localization.
The three partnering companies say they aren't going to just build fully autonomous cars. They aim to develop "a scalable architecture" that can be adopted by other automotive designers and carmakers.