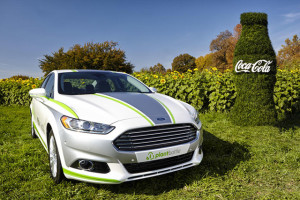 All car makers are putting efforts in making vehicles more environmental friendly these days. Hybrid engines and better gas mileage is what most of them focus on. A new partnership between Coca Cola and Ford shows there are other aspects that can be improved. The PlantBotle technology will be used in the interior of the new Ford Fusion Energi – a hybrid vehicle currently in development by the car company. A demonstration model outfitted with the first-ever fabric covering for seat cushions, head restraints and more made with Coke's PlantBottle Technology will be showcased next week at the Los Angeles Auto Show.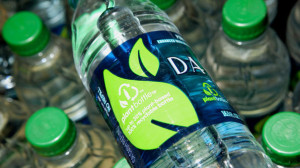 "We hope to drive awareness that PlantBottle Technology can be used across the entire polyester universe – in everything from the inside of a car, to carpet, to clothing," said Scott Vitters, general manager of the PlantBottle packaging platform at Coca-Cola "Ford is highlighting the potential for a future of renewably sourced, low-carbon polyester fibers that can be recycled again and again."
Scientists and engineers at the two companies co-developed a fiber using PlantBottle material that could be woven into durable, automotive-grade PET fabric. Ford is evaluating the potential of using the material in other applications. The PlantBotle technology essentially uses biofuels, in this case sugar cane ethanol, to create a modified PET, which is a type of plastic resin used commonly for bottles. Coca-Cola said that it's already distributed over 18 billion PlantBottle packages, which has saved them 400,000 barrels of oil. If the new fabric will be used in the majority of U.S. Ford models, it would save a further 6,000 barrels of oil.
The Fusion Energi – Ford's most fuel-efficient sedan – was the natural choice for a test vehicle, given its "eco-friendly halo." Other renewable materials are featured throughout the vehicle, from carpet liner made from sound-absorbing denim, to seat-cushion foam made with soybeans. "People who buy a hybrid plug-in vehicle are more environmentally conscious than the average car buyer," said John Viera, global director of sustainability and vehicle environmental matters, Ford Motor Company "And they're interested in more than great fuel economy."