After the incidents in Seattle and Mexico, a third Model S has caught fire under similar conditions. The fire is said to have started as a result of an accident and was not a spontaneous event. The driver struck a tow hitch in the middle of a lane on Interstate 24 near Murfreesboro, Tennessee, damaging the car's undercarriage and causing the fire, Dalya Qualls, a Tennessee Highway Patrol spokeswoman, said, the driver pulled the car over and was uninjured. The highway patrol report did not say how fast the 2013 model Tesla Model S was traveling in Tennessee, but the driver was able to pull off the roadway and get out of the car.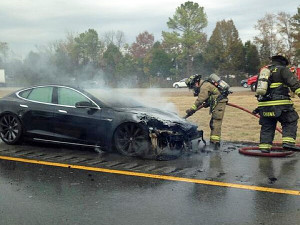 The recent fires are reflecting bad on the California based company. Its shares slid 7.5 percent to $139.77 at the close yesterday in New York after reports of the newest fire. That decline follows a 15 percent drop Nov. 6 after the carmaker's third-quarter results and fourth-quarter outlook disappointed investors. While there are an average of 150,000 car fires in the U.S. each year, with only 19,000 Model S sedans on the road, having three vehicles catch fire in six weeks has garnered plenty of attention. The Seattle one was not investigated. The Mexico one involved a drunken driver who went through a wall and crashed into a tree. A third fire in five weeks suggests U.S. regulators need to examine the luxury electric car, a safety advocate said after the Tennessee accident. According to a statement from the NHTSA regarding the fire in Tennessee, the agency "will contact the local authorities who are looking into the incident to determine if there are vehicle safety implications that merit agency action."
Earlier this year Independent testing by the National Highway Traffic Safety Administration (NHTSA) has awarded the Tesla Model S a 5-star safety rating, not just overall, but in every subcategory without exception. But the recent fires raised some serious questions about model's safety.