Tesla's presence on stock market and auto market has been extraordinary this year. Last two months, though, the company lost some of its reputation due to the third quarter disappointing results. For the past few years the Model S has been the main focus of Tesla Motors. Recent Model S fires in Seattle, Mexico and Tennessee harmed the good face of the company.  Now it is time for a new star to join the Tesla family – the luxury SUV Model X.  At a store opening in London, Tesla CEO Elon Musk revealed some details about the new car:
"The Model X price will be very similar to the Model S. It's probably going to be a slightly higher starting price because the Model X will only be offered as all-wheel-drive. So it'll be dual-motor all-wheel drive."
The "all-wheel drive" comes as surprise. Tesla's website claims the car will be offered both with rear wheel drive and four wheel drive. But the statement was made in London, so maybe it's only for the British costumers. The other interesting is that we have some information about the price tag. But "slightly higher" doesn't really tell us much. If it's similar to the Model S we can expect it to be anywhere from about $60,000 to more than $100,000 depending on options and the type of battery used, not including federal tax credits.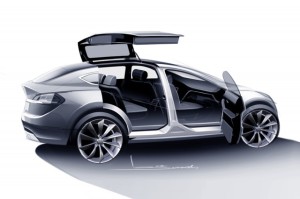 Originally Musk had planned to begin producing the vehicle by the end of this year with deliveries beginning early in 2014. In February that schedule was extended for production to begin by the end of 2014 so that the company could focus on achieving profitability in 2013. The first drives, and customer deliveries scheduled for the second quarter of 2014, but the full capacity production is expected in 2015. For now, though, the new vehicle is still having its final production specifications and the most commented thing about it seems to be the gull-wing doors.