Chrysler has recently released details and images of the 2015 Dodge Charger Pursuit, a pretty mean-looking car designed for police use. The heavily refreshed version of the 2015 Dodge Charger was unveiled only a few months ago at the New York Auto Show. The current Charger is the most sinister looking cop car on the road so far and Dodge tries to keep up that reputation for intimidation with the newly minted police car.
Based on the modified version of the civilian Charger, the 2015 Pursuit is designed and engineered to be America's high-performance police vehicle and is offered with the choice of the two V6 and V8 models, both providing law enforcement with best-in-class power, technology and fuel efficiency.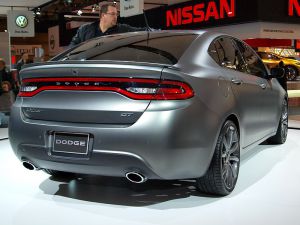 Like the standard Charger, the 2015 Pursuit is offered with a 3.6-liter aluminum Pentastar V6 engine that produces 292 horsepower and 260 lb.-ft. of torque, offering E-85 flex-fuel capability.
In addition, the Pursuit with the great-sounding 5.7-liter HEMI V8 that delivers 370 horsepower and 390 pound-feet of torque, from 0 to 60 mph in less than 6 seconds and up to 26 miles per gallon highway with the innovative four-cylinder mode Fuel Saver Technology. Both models are available with rear-wheel drive, while the Pursuit V8 can be fitted with all-wheel drive.
The exterior redesign includes an all-new crosshair grille, darkened headlamps framed by LED and day running lights, all-new forward-leaning front fascia, and that new look gives the Dodge a superhero confident stance.
The 2015 Pursuit has a new driver-focused cockpit, new safety and security features, as well as cutting-edge technologies, "all designed to deliver the ultimate performance expected from Dodge" and "to help law enforcement agencies perform their duties ", says Tim Kuniskis, President and CEO – Dodge Brand, SRT Brand and Fleet Operations, Chrysler Group LLC.
During the creation of the 2015 Pursuit, Dodge consulted a police advisory board with 22 members. The breaking ability was enhanced with larger rotors and new break cooling ducts; other upgrades include performance-tuned suspension; especially developed front seats designed to accommodate officers wearing holsters; a new steering wheel with extra buttons for operating auxiliary police equipment; a new gauge cluster with a seven-inch display and a standard five-inch Uconnect infotainment with Bluetooth. As every patrolman's wish list may be a little different, there's a variety of fully warranted features available from Mopar: a slide-out trunk tray, steel seatbacks, ballistic door panels, a trunk mounted air-circulation fan to keep electrical equipment cool, and lots of wiring upgrades for sirens, lights or cameras.
As you can see, the new 2015 Pursuit is not something you would like to mess with.