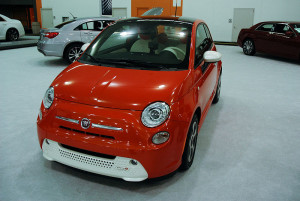 During a discussion of the U.S. debt bailout at the Brookings Institution in Washington, the CEO of Fiat Chrysler Sergio Marchionne said he hopes that people don't buy the Fiat 500e EV which he is bound by state and federal mandates to sell at a loss.
"If you are considering buying a 500e, I hope you don't buy it because every time I sell one it costs me $14,000" Marchionne told the audience.
Currently, two Fiat 500s are produced by Fiat Chrysler Automobiles. The gas-powered Fiat 500 starts at almost $17,300 including delivery charges while the electric Fiat 500e has a base price of $32,650.
California's Zero Emission Vehicle (ZEV) standard requires a certain percentage of auto companies' vehicles to have no emissions. For 2014 this requirement is around one percent of sales and it is planned to increase to 16 percent of vehicles sold that can be either EVs or hydrogen fuel-cell vehicles.
However, the high cost of batteries makes the production of the EVs prohibitively expensive and deters buyers. The companies make use of electric vehicles production as a hedge against federal and state- mandated fuel economy requirements and regulations and they are getting tougher year by year.
According to the Los Angeles Times, in a speech on the auto industry last year, Marchionne called the government fuel economy regulations "masochism to the extreme". He said he would prefer the Government just set the targets and let the auto manufacturers to meet them in their own way.