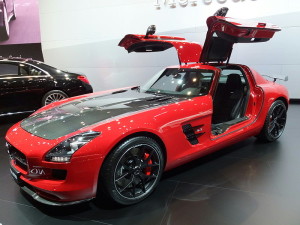 Mercedes has just unveiled a stunning electric Maybach concept that will rival Tesla.
Mercedes-Benz unveiled a new electric car concept on Thursday evening at Pebble Beach, in California. The luxury electric car, dubbed the Vision Mercedes-Maybach 6, is the latest of Maybach line.
The concept was showed off in a bright shade of red. Named for its 6-meter length, which is about 18 feet, the Vision Mercedes-Maybach 6 is reportedly meant to show what a high-end Mercedes-Benz will look like in 10 or 15 years time.
The model features gullwing doors which are a Mercedes hallmark. The concept has an extremely distinctive look with its enourmous sleek hood, low roof line, 24-inch rims, dual rear window and rear-positioned passenger compartment.
The Vision Mercedes-Maybach 6 has a "sensational coupe" that "represents the ultimate in contemporary luxury," according to Gorden Wagener, Daimler's head of design. The car's design is "hot and cool" with "intelligent technoid look". Inside, it features a massive touchscreen including a digital overlay and spacious leather seating for four with warm polish wood accents. The concept combines the modern technology with old school comfort.
The concept comes with an all-electric powertrain and a massive battery along the bottom of the vehicle.  Equipped with a 738-horsepower electric engine which has a range of more than 200 miles on a single charge, the concept car can go from zero to 60 mph in less than four seconds, executives claim. It reportedly can charge to a range of 62 miles in just five minutes.
The Daimler-owned company didn't say when consumers can expect the Vision 6 to go on sale, yet, there are some speculations that the model could be on the road within the next decades.