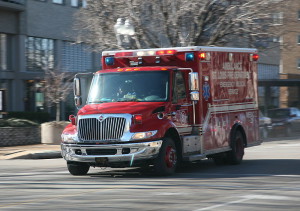 Goodyear police have arrested a 40-year-old man after he stole a Buckeye Valley Fire District ambulance in order to drive himself home, police spokeswoman Lisa Kutis said.
Michael Lopez was admitted to the emergency room at West Valley Hospital, an acute-care community facility, last Sunday morning. However, he felt he was being hospitalized against his will. He simply walked out of his room and then out of the hospital without anybody noticing.
Lopez spotted a Buckeye Valley Fire District ambulance that was parked on the side of the road. He simply got behind the wheel, started the engine, then pushed the accelerator pedal and drove himself home. A firefighter was sitting in the back of the stolen ambulance. However, he was able to jump out safely.
Police pursued Lopez and asked him to pull over, but he refused. He drove the ambulance to his home that is a few miles away in the suburb of Avondale.
Lopez didn't realize that the vehicle he stole from the parking lot next to Arizona's West Valley Hospital was fitted with a GPS tracking system and the authorities easily located the stolen ambulance. The man was quite surprised when police officers showed up at his door and arrested him.
Michael Lopez is currently being booked into a Phoenix jail. He is facing charges of theft of means of transportation, felony flight, failure to yield to police and disorderly conduct, according to Goodyear police department spokeswoman Lisa Kutis.
The ambulance was returned to the Buckeye Valley Fire District in a good condition and without any damages.