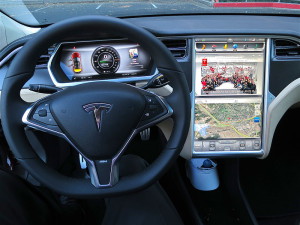 The California-based electric carmaker Tesla Motors is in talks with Germany's BMW over a possible collaboration on batteries and light-weight components, Tesla's Chief Executive Officer Elon Musk told the German weekly news magazine Der Spiegel.
In an interview, published just a few days ago, Tesla's billionaire co-founder Musk noted that BMW uses advanced materials in its new hybrid-electric models. He said that the use of carbon fiber car body parts is "interesting and relatively cost efficient".
The German automaker uses carbon fibers provided from its joint venture with materials supplier SGL Group to reinforce the passenger cell parts on the i3 electric hatchback and i8 plug-in hybrid models which makes them the most efficient cars in the U.S. Musk added that the discussions between the two automakers were whether they would work together on "battery technology or charging stations." Musk also told Der Spiegel that Telsa is expected to have a battery production plant in Germany in five to six years.
However, don't get too excited about the potential cooperation between BMW and Tesla as the talks are only informal. No officials at BMW were available to comment on further details of the specific nature of the alliance. Later, Kathrin Schira, a spokeswoman with Tesla in Germany told Reuters that the talks were "a casual conversation, and not about a formal cooperation".
Mercedes-Benz parent Daimler said recently it would continue to collaborate with Tesla even after selling its own four percent stake in the U.S.based-company. Tesla has also worked with Toyota in the past on electric SUVs.
In addition, Tesla is about to build its $5 billion battery factory in Nevada. The Gigafactory, a 10-million-square-foot plant, will employ 6,500 workers and produce 500,000 lithium-ion battery cells per year. Considering the battery plant, the fact that BMW is a leader in producing carbon fiber lightweight parts and Tesla is developing the next battery technology, the news of the talks between the two automakers comes as no surprise.