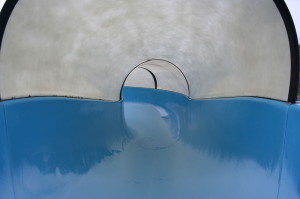 Are you brave enough to take a ride on Verrückt water slide at Kansas City Schlitterbahn? The world's tallest and fastest water slide is opening to the public today. The highly-anticipated attraction was originally set to open on May 23. However, the opening date was delayed three times.
In April, the 17-story high scream machine was officially certified as the tallest water slide in the world by Guinness World Records. Standing at a record-breaking height of 168 feet, Verrückt Meg-A-Blaster is taller than Niagara Falls. Keep in mind that Verrückt in German means 'insane'. Thrill-seekers who dare to try the brand new attraction must be at least 54 inches tall and 14 years old. They climb 264 steps to reach the top and then they can take the heart-pounding drop plunge.
A video, showing the complete experience of riding, test riders plunging down at a 60-degree angle, was released yesterday. The video was shot by the global leader in satellite navigation, Garmin International Inc. and Schlitterbahn Waterparks & Resorts. The camera captures rider's speed and heart rate.
Get ready to face your fear; it's going to be a wild ride.