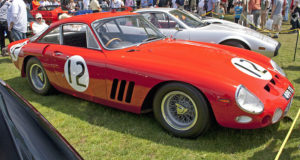 A 1962 Ferrari 250 GTO is officially the most expensive car in the world after it was auctioned off for a record-breaking US$48.4 million.
The 250 GTO race car took the title of the world's most expensive car sold at auction last month, netting a US$44 million top bid that balloons to a remarkable US$48.4 million with buyer's fees included. The race car became not only the most expensive Ferrari sold at auction but the costliest car of any kind to ever cross the block.
The 1962 Ferrari was previously owned by former Microsoft executive Dr Greg Whitten. The car went under the hammer at RM Sotheby's annual Monterey collector car auction. It fetched a phenomenal seven-digit figure, after an intense bidding battle between three collectors, The Ferrari was sold after just 10 minutes and almost 20 years after it was last auctioned. The recent lot proved to be a powerful investment for Dr Greg Whitten who paid US$7 million for it back in 2000. The iconic prancing racehorse is so rare that, between 1962 and 1964, only 36 were built.
The iconic sports coupe saw victory at the 1962 Italian GT Championship driven by Edoardo Lualdi-Gabardi, a personal friend of Enzo Ferrari, and established a record with 15 wins between 1962 and 1965.