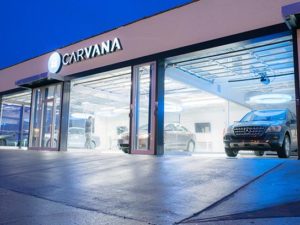 A new eight-story vending machine will sell used cars in Tampa. This is Carvana's second car vending machine in Florida, as another one has recently opened in Jacksonville, but the Tampa location is one of the largest holding up to 32 vehicles at a time.
The fully automated, coin-operated vending machine is the eighth of its kind across the country – joining the one in Jacksonville and those in Houston, Austin, San Antonio, Dallas, Nashville, and Raleigh.
Florida has known about the new way to sell used cars since last year, when Carvana launched for the first time in the area, the Jacksonville vending machine, offering free, as-soon-as-next-day car delivery. Instead of spending hours walking through dealership lots and dealing with a salesperson, customers can order a used car through the company's website and schedule a pickup time. They can choose from 10,000 vehicles from home or on the go via their mobile, purchase, and schedule next-day delivery or car vending machine pickup in only 10 minutes.
After arriving at the vending machine, customers who choose Car Vending Machine pickup place a coin in the slot, just like to get a bag of chips. A massive robotic system collects the requested car and transports it into the delivery bay. On the ground level for the customer to drive home or take on a test drive. A customer has seven days to test the vehicle and see if the vehicle really fits their needs. If they aren't satisfied, they can return the vehicle for a full refund. All vehicles are Carvana Certified. They have passed a rigorous inspection and have never been in a reported accident, nor have frame damage, Cavana claims.