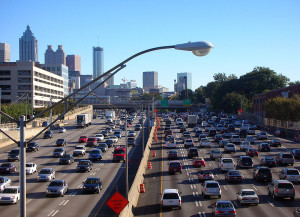 China unveils futuristic transport concept- a bus that drives over cars.
A Beijing company has unveiled an amazing concept elevated bus that travels above the other vehicles and could hold the key to solving the crazy traffic jams in the big cities.
The concept vehicle was unveiled a few days ago at the 19th China Beijing International High-Tech Expo and it certainly attracted some attention as traffic congestion is a problem that many cities all over the world continue to struggle with.
TEB, otherwise known as a Transit Elevated Bus, is essentially a bus that can drive over traffic and carry up to 1,400 passengers at a time. It would run on electricity and it would be able to travel up to 40 miles an hour gliding above the traffic on a special track. Along with solving traffic problems, the concept aims to maximize the use of road space. The TEB would replace 40 buses which could cut annual fuel consumpsion and carbon emissions significantly.
The new metro system would be less expensive than the conventional subway system as it doesn't involve digging up the ground. According to Bai Zhiming, senior project engineer, the TEB has the same functions as the subway while its construction cost is less than one fifth of the subway.
Shenzhen Huashi Future Parking Equipment is the company behind the TEB. The project engineers say construction can be completed in a year. Trial operations are planned to begin in Qinhuangdao, a city in north China's Hebei Province, in the second half of 2016.
Watch how the concept works here.