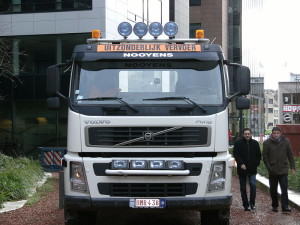 Startup founded by former Google engineers aims to bring autonomous big-rig trucks into highways.
Ottomotto is a startup, based in San Francisco, is founded by four ex-Google engineers, including long-time self-driving pioneer Anthony Levandowski, one of the founders of Google's self-driving car program.  Levandowski left Google toward the end of January to pursue his vision at Otto. The new Silicon Valley startup was co-founded by Lior Ron and Don Burnette, both of them former Google employees. Lior Ron is a former Alphabet employee who earlier led Google Maps as well as the development of Google's Moto X smartphone. The fourth co-founder is Claire Delaunay, another robotics expert. Otto was created in January and since then the company has expanded to 41 employees experienced in self-driving teachnology.
The new company, Ottomotto LLC, aims to build hardware enabling existing 18-wheelers to operate on highways without human intervention. The company successfully completed the first test of its system on public highways in Nevada during the weekend. The tests were conducted in Nevada because California's self-driving regulations apply only to passenger cars and don't allow the technology to be used on public roads by commercial trucks or any vehicle exceeding 10,000 pounds.
The self-funded startup has begun testing its three new Volvo trucks. They are equipped with software, cameras, radars, and spinning laser sensors known as Lidar, so they eventually will be able to cover more than 220,000 miles of U.S. highways on their own without human intervation, allowing the driver to rest or handle other tasks. For now, the system will take the wheel on the highway while a human driver will navigate through city streets.
Now, Otto is looking for 1,000 volunteer truckers to have self-driving kits installed on their rigs at no cost. The project aims to help fine-tune the technology. The volunteers would be expected to take control of the truck if the technology fails or the driving conditions become dangerous.