More and more carmakers look to the future and see cars that drive themselves. Volvo and Nissan made some progress lately – Volvo plans to put 100 cars on the streets of Sweden's second city and Nissan already tested a self-driving Leaf on a highway south of Tokyo. Nissan (and also Mercedes-Benz) claim they can put autonomous car in sale by 2020. Ford is not so optimistic and says 2025 is more realistic. They just announced their testing vehicle – the new Ford Fusion Hybrid.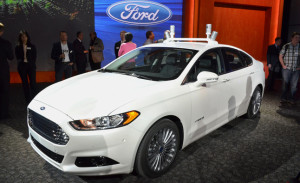 Ford has partnered with the University of Michigan to develop future automated driving and driver-assistance technologies. The blue oval says the project is part of its "Blueprint for Mobility" plan, which aims to develop new technology for use on its cars from 2025 and beyond.
The most interesting feature in the new Fusion is the LiDAR – Light Detection And Ranging – sensor system. This system would be the eyes of a self driving car – placed in four rotating cowls on the roof, that look like police light bar but are actually spinning lasers. The swath of lasers spin and the reflections are picked up by passive sensors in the car. Similar systems are already in use on other autonomous vehicles, but most carmakers prefer optical and millimeter wave radar rather than LiDAR.
Ford says that it is already working on new technologies to alert drivers to traffic jams and accidents, as well as semi-autonomous functions for parking and driving in slow-moving traffic. The company plans to add some autopilot capabilities to its cars in the mid-term, while also looking at fully autonomous driving further ahead.
The Ford Fusion Hybrid automated vehicle represents a vital step toward our vision for the future of mobility," said Ford Executive Chairman Bill Ford. "We see a future of connected cars that communicate with each other and the world around them to make driving safer, ease traffic congestion and sustain the environment. By doing this, Ford is set to have an even greater impact in our next 100 years than we did in our first 100."