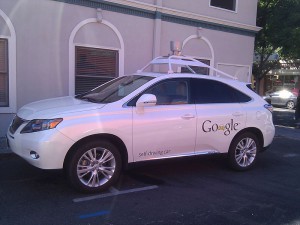 Google Inc. has chosen Austin, Texas, as the latest testing location for its self-driving car project, the search engine giant announced Tuesday with a blog post. One of the company's Lexus SUVs has already been seen driving a few square miles north and northeast of downtown Austin and, as before, the vehicle has two safety drivers on board, ready to take control of the vehicles if necessary. The drivers will provide feedback to the company engineers about how the vehicle is behaving.
The company has been crossing more and more public streets. Since the driverless car project began in 2009, Google is testing several dozen self-driving prototypes on public roads in Mountain View, Calif. where the company has its headquarters. Its fleet of self-driving vehicles has driven 1.7 million miles, both manually and autonomously, according to the company's website.
The car is equipped with cameras and sensors. Special software is creating a detailed map of the streets, traffic signals, and curb heights and the system can detect objects as far as two football fields away in all directions.
However, there are some experts that question the safety of Google's vehicles, as they have been involved in 11 minor accidents since the beginning of the project. Google has recently released a statement noticing that those incidents were not fault of its self-driving vehicles.
Google and the other auto manufacturers have said the technology to build a self-driving car will be ready by 2020.