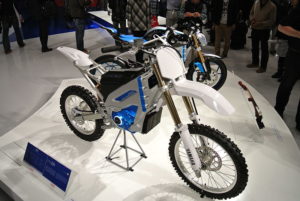 Harley-Davidson announced that it will collaborate with Alta Motors, an electric vehicle company based in Brisbane, California on the production of future Harley electric motorcycles. The announcement was made on March 1.
The Milwaukee company says it has acquired part of the Californian company that has been making electric dirt bikes for eight years. Harley-Davidson made an equity investment in Alta Motors, although both companies weren't specific on the investment and terms of the deal.
Alta Motors is an innovator in lightweight electric vehicles. Since its debut in 2010, the startup has raised over $43 million. The highlight of its current lineup is the RedShift MXR. The 50-horsepower electric motocross bike travels about 60 miles on a battery charge and it takes about 90 minutes to complete.
The bike comes in two models: a street-legal supermoto and a trail-ready motocross bike. The producer says the bikes could change the way we commute during the week and how we ride on the weekend.
Alta Motors co-founder Marc Fenigst said in a statement that electric motorcycles are the future, and American companies have an opportunity "to lead that future".
The name of the new motocross bike might be Revelation for the engine of its new electric motorcycle. Harley-Davidson didn't confirm it. However, the company has filed an application with the U.S. Patent and Trademark office for the name "H-D Revelation," in a listing that includes engines for motorcycles, electric vehicles, and batteries for vehicles. First production electric motorcycles will debut in 2019.
According to The Verge.