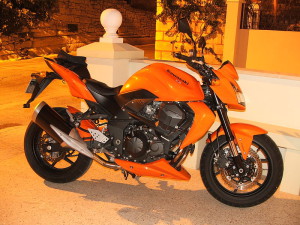 People never know who is watching at them while they are driving on the highway. A story that sounds like a hi-tech moral tale caused a sensation.
A California Highway Patrol plane was patrolling over the East Bay a month ago. The Air-37 is equipped with a gyro stabilized thermal camera that has lens capable of zooming in from several miles away so the finest details can be seen.
The Officer Tony Jackson spotted a man on an orange Kawasaki motorcycle doing wheelies and other stunts, including standing on the bike. Corey McDonah, 23, from San Leandro was speeding at 120 mph, nearly double speed limit, on Interstate 580 in Oakland. He didn't realize he was caught on video for evidence by the plane overhead. The patrol followed him to his home, alerted officers on the ground and the motorcyclist was arrested.
Corey McDonah was sentenced to three years of probation, 20 days with the sheriff's work squad and 40 hours of community service.  He also must pay a $500 fine and either sell his motorcycle or take a safety class. Later, the motorcyclist admitted that it was not the first time he had done a wheelie and he had racked up a number of tickets in the past.
The CHP Officer Tony Jackson said that by arresting the motorcyclist, the police hoped to prevent such reckless driving.
A special grant is received to enhance the efficiency of the aerial patrols with both airplanes and helicopters. One of the main reasons is to decrease the number of motorcycle deaths caused by speeding.
So if it happens you are speeding down the interstate, pedal to the metal or just whizzing along a quiet country road and it's more than likely there's no patrol car for miles, think one more time, look upwards and be careful. There's probably an eye in the sky watching you.