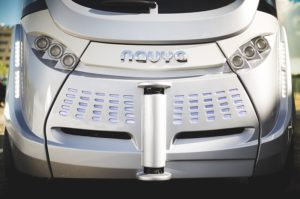 Navya Technologies SAS unveiled its Autonum Cab, an autonomous taxi currently available for orders.
The small French company is mostly known for its autonomous shuttles. Navya has recently taken the next step in self-driving vehicles by introducing its robot-driven automobiles.
Navya is planning to test its self-driving taxis onto the streets of Paris in the next few weeks to try and beat large tech companies, big automakers, and other well-funded startups, from General Motors Co. to Alphabet Inc., in a race to develop fully autonomous cars and prove that they are safe.
The French startup has been driving its 15-seater driverless shuttles in the business district of La Defense in Paris since July. The company is currently backed by investors including car-parts maker Valeo SA. Navya is going to manufacture a smaller 6-seat SUV that will start selling in about a year. The new robot taxi prototype was unveiled in Paris last month.
The new robot cabs come with a top speed of about 55 mph. They will be priced between 230,000 euros and 250,000 euros and start selling from the third quarter of 2018. The testing will be carried out in partnership with French transport operator Keolis SA and the Sydney-based Royal Automobile Club of Australia which in total have pre-ordered about 30 cars.