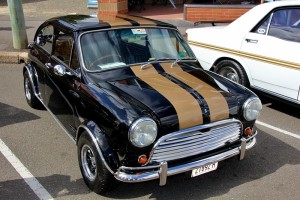 Two Beatles' cars are up for auction: Paul's Aston Martin, Ringo's Mini Cooper along with Elton John's Bentley.
Two most British pieces of musical and automobile history Aston Martin and Mini Cooper formerly owned by The Beatles can now be yours. A 1964 Aston Martin DB5 that used to belong to Sir Paul McCartney and a 1966 Mini Cooper owned by Ringo Starr are going to auction in a few days at The Bond Street Sale, an auction house in London.
The Cooper is expected to sell for anywhere between $120,000 to $160,000 and Aston Martin is expected to fetch between $1.6 million and $2 million.
The Aston Martin was purchased by Paul McCartney in 1964 and owned by him for six years. Although McCartney later owned another Aston Martin- DB6, which had been the subject of extensive media coverage, this DB5 is lesser known and believed to be the first Aston owned by the Beatle.
Ringo Starr's 1966 Mini Cooper S was purchased like others Beatles' Minis, new by band manager Brian Epstein's company, to which it was first registered in May 1966 as 'LLO 836D'.The registration number is in the same sequence as that of Paul's Aston Martin DB6 – 'LLO 840D'.
Ringo's Mini won the coveted Cartier 'Style et Luxe' Concours award at the Goodwood 'Festival of Speed' in 1998. It is described as the "Rolls Royce of Minis" and has been displayed in many Beatles-related exhibitions.
The auction will also feature Elton John Bentley that he bought in 1976 and kept for 25 years and another Bentley the artist owned mainly to drive guests, a 1960 Jaguar XK150 and a 1965 Porsche 911.
Which one would you dare to buy?
According to FinancialExpress.