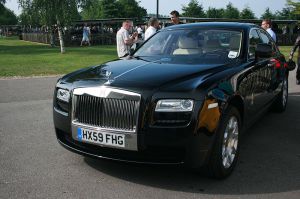 There is only a day left until the Geneva Motor Show and we are looking forward to enjoying the first Rolls Royce Phantom bespoke creation that will make its debut there.
The model is named Serenity and was built by the Rolls-Royce Motor Cars Bespoke Design team. The British luxury automaker is confident that it will "set a new benchmark for luxury individualization in super-luxury motor cars".
Unfortunately, it is hard to figure out exactly what to expect at Geneva. The luxury brand has only teased the one-off model as they released a rendering of the design interior which features plenty of silk and silk-inspired components, as a symbol of wealth, power and royalty: silk seats, silk blossom headliner and mother of pearl detailing. The bespoke model comes with smoked cherry wood trim, unique floor mats with silk accents and bespoke instrument dials. According to Rolls Royce, the opulent interior was inspired by "Rolls-Royces that have conveyed Kings and Queens, Emperors and Empresses and world leaders throughout history."
The company added that we can expect "interpretations of European furniture combined with Japanese Royal Kimono designs to deliver a truly innovative, modern and tranquil Rolls-Royce interior".
Under the hood lies a V-12 6.7-liter engine that produces 453 horsepower and 531 pound-feet of torque. The car will reach from 0 to 60 mph in 5.7 seconds and a top speed of more 155 mph.
Rolls Royce will pull the wraps off the bespoke Serenity on March 3, 2015 at 1:30 p.m. at the Geneva Motor Show and we will be there for full details.