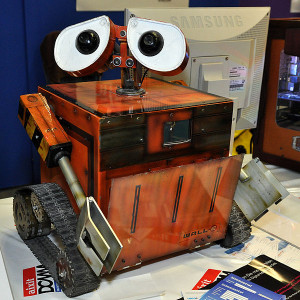 If you like Wall-E, the cute robot from Andrew Stanton's film, you will really love the new robotic butler, dubbed Botlr. It will deliver toothbrush, bottled water, morning paper, towels and other amenities to guest rooms and the lobby upon request at some Aloft hotels in South Beach.
A 3-foot-tall robotic butler officially began duties a few days ago at the new Aloft South Beach, announced from Aloft Hotels, a Starwood Hotels & Resorts brand. It will be a full-time member of Aloft Silicon Valley's staff for six weeks. It is the second robotic assistant for the famous hotel brand.
Botlr, sporting a custom uniform and nametag, has already been known to hang out at the hotel's lobby while taking selfies with guests. Aloft Silicon Valley's robot became a viral video sensation several months ago.
The original Botlr has also taken a trip to greet guests at Aloft Miami South Beach starting August 27 before returning home to Cupertino. In Miami, Botlr has been the moonlight for a few days at the new Aloft South Beach hotel. It surprised guests with special delivery items from the "Botlr Takes Miami" menu that includes every day beach essentials. It will also doll out towels in the lobby and act as a "wingbot" for singles at the W:XYZ bar.
Don't worry about colliding with Botlr. The robot is equipped with avoidance technology so it won't bump into people, pets and children, according to Brian McGuinness which is the Senior Vice President of Starwood's Specialty Select brands, including the Aloft, Element and Four Points by Sheraton brands.
The goal of the robotic butler is to take over mundane tasks from the hotel's human staff in order to allow them to focus more on serving customers personally. With Botlr, items are delivered to guest rooms in about three minutes instead of the typical 30 minutes.
Starwood Hotels & Resorts launched Aloft in 2008 and today operates about 100 of them. The company has three others in training.
If you are packing to stay in an Aloft hotel, you should have in mind that Botlr is not averse to posing for selfies, so don't be shy.