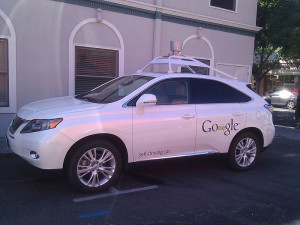 Autonomous vehicles struggle to cope with shabby U.S. roads.
Self-driving vehicles might not be ready by 2020 and this was made more than evident when Volvo semi-autonomous prototype refused to drive itself during a press event at the Los Angeles Auto Show.
"It can't find the lane markings!" said Volvo's North American CEO Lex Kerssemakers, as he was frustrated by the company's self-driving prototype's confusion. Kerssemakers added: "You need to paint the bloody roads here!"
Autonomous cars use cameras, radars and lasers — all known as sensors — as their eyes and ears to collect data via artificial intelligence software. Shoddy infrastructure has become one of the big hurdles to the development of autonomous vehicles forcing the automakers to add more sophisticated sensors and maps to their self-driving cars to compensate.
When the lane fades, vehicles know how to handle "these weird circumstances" and they "have three different ways of doing things in case one fails", according to Christoph Mertz, a research scientist at Carnegie Mellon University.
Even Tesla CEO Elon Musk has recently admitted to the great challenge that is ahead of the autonomous-vehicle development. He called faded lane markings "crazy" complaining they confused his self-driving cars.
Poor markings and uneven signage are found throughout three million miles of paved roads in the United States. They are only putting more pressure on tech companies and automakers in the development of autonomous vehicles.
The Transportation Department estimated only a few months ago that 65 percent of United States roads and 69 percent of California roads were in "poor  or mediocre condition."
According to Boston Consulting Group autonomous car manufacturers will spend more than $1 billion over the next several years in research investment for even more sophisticated autonomous features.