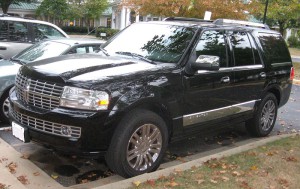 The new Lincoln Navigator Concept, a massive SUV, was unveiled at the 2016 New York Auto Show. The current Navigator is also a massive vehicle, however the next generation Lincoln Navigator will carry that weight in a much more elegant way.
The Navigator, one of the original all-American large luxury SUVs, was introduced in 1997. Later, the Cadillac Escalade, eclipsed the navigator and outsold it by 3 to 1 last year.
Lincoln president Kumar Galhotra in a press release ahead of the car's introduction at the New York Auto Show said that the new Navigator was a very interesting challenge for the design team. He also noted that "the design language is all about elegant beauty." Galhotra added that to take such a large vehicle and to make it elegant was "a fun challenge" for the team. Lincoln officials said that the Navigator's design was inspired by the world of luxury boating which is the reason the concept to be called "luxurious land yacht" by some media.
The new Navigator features the attention-getting combination of giant gullwing doors, dramatic styling, and an elegant interior. The three-row SUV has a three-step staircase to help passengers enter the high-riding vehicle. The Navigator features a rounded rectangular grille and "radial, directional turbine-themed," 24-inch wheels.
The Navigator concept has a twin-turbo 3.5-liter V6 engine producing more than 400 horsepower and adjustable suspension system. The Navigator's cabin is outfitted for six passengers, each getting a 30-way adjustable seat and there are WiFi-equipped touchscreen monitors mounted in the seat backs. Behind the seats there is a cargo area that doubles as a closet with shelves which make up the wardrobe management system.
The new Lincoln Navigator Concept will be equipped with semi-autonomous technology, including pre-collision assist with pedestrian detection. There will be a radar-and-camera-based system that will look for obstacles, warn the driver, and brake if needed. The Navigator also features a 360-degree camera and lane-keeping assistance.
The new Navigator will definitely be one of the most talked-about vehicles at the 2016 New York Show. The vehicle is scheduled to go on sale in 2017- 20 years after it was first introduced.