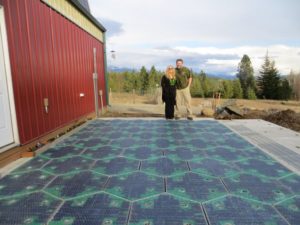 The Tokyo metropolitan government is planning to build "solar roads" that collect energy from the sun via solar panels installed beneath the surface of the roads. The effort aims at promoting the Japanese capital as an eco-friendly city ahead of the 2020 Olympics and Paralympics.
The new technologies are believed to be started on a trial basis at facilities owned by the Tokyo government next year. The solar road consists of a system of solar panels installed on the road, with the surface of the panels covered with a tough resin that will enhance durability. It is possible for vehicles to drive over the panels.
Solar pavement has already been installed in Japan: a Seven-Eleven store parking lot in Kanagawa Prefecture. According to the manager, the solar panels have the potential to generate 16,145 kilowatt-hours of electricity per year that covers about nine percent of the entire electricity that the store consumes.
The first solar roads were introduced on cycling roads in the Netherlands four years ago and later on motorways in France. An American company, Solar Roadways, has been working on developing solar panels for paving highways. The company has $1.6 million received in federal grants and more than $2 million raised privately to support its plans.
Solar motorways are one of a number of novel installation technologies, serving as a way to collect renewable energy from the sun. Although the initial cost is seen as a barrier to the technology going mainstream and the components are also not produced widely, there are many companies that have been working on perfecting glass-covered solar highways.
According to Independent.