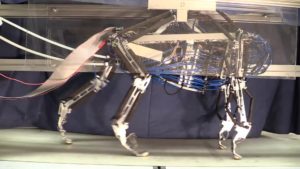 The robot invasion is already underway. Boston Dynamics is planning to build an army of robot dogs.
The Massachusetts-based firm has announced it is preparing to produce 1,000 SpotMini robotic dogs per year.
By July 2019, the engineering and robotics design company wants to launch its canine-like bots.
The 2.75-foot-tall, four-legged machine inherited the mobility of its big brother Spot. SpotMini is the smallest variant of Boston Dynamics' many different models of robot dogs. It weighs around 66 pounds and has 90 minutes of battery life. The robotics design company demonstrated all kinds of functionalities during TechCrunch's TC Session Robotics event in May.
The robot will have increasingly complicated navigational skills and will be able to open doors, pick up and handle objects using its claw-like arm and sensors. SpotMini can carry a 30-pound payload while operating for up to an hour and a half on a single charge. Fitted with cameras, the robot can see where it's going and detect obstacles to avoid. The Spot is considered Boston Dynamics' "quietest robot".
Co-founder Marc Raibert said during TechCrunch that clients fall into four categories: construction, delivery, security, and home assistance.
Raibert also said that they build 10 robots by hand, they are planning to produce 100 with manufacturers at the end of this year and at the end of 2019, the company will be on pace to produce 1,000 SpotMini robots annually.