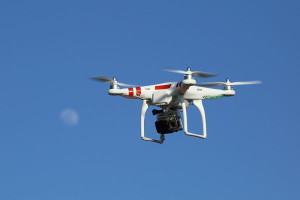 Uber's drones are heckling motorists stuck in traffic in Mexico City.
Drivers on a highway in Mexico City have lately found themselves being buzzed by a fleet of ad-toting drones. The black-and-white quadcopters carried white signs with simple slogans written in black on them and telling drivers that they should have carpooled as the city is for people, not cars.
"Driving by yourself?" some of the inscriptions have been asking in Spanish, while others saying "This is why you can never see the volcanoes." As a reference to the skies above the mega city that are often filled with smog that obscures the two nearby peaks. The messages may seem like a plea to be more environmentally conscious, in reality they are just a push to use the new service of Uber.
Obviously, the ride-sharing company hopes to encourage motorists in Mexico City to use its Uber Pool feature. The future of the company depends on international growth. Uber has recently engaged in a costly war with rival Didi Chuxing that finally forced the ride-sharing company to wave a white flag. Now Uber sees Latin American countries as a ride-sharing gold mine and currently does more business in Mexico City than any other city it operates in.
After all, drones were used to advertise Uber carpooling service only in Mexico City, but the company has no plans to persue the same strategy in other markets, confirmed a spokesperson for Uber.
According to Technology Review and Inverse.