A car that can drive itself is the ultimate dream of carmakers these days. Just like electrical cars, a lot of expectations are put upon autonomous vehicles – they are supposed to be safer, greener and more economical. And while the world may not be ready for a driverless car, more and more manufacturers start testing them. Volvo announced plans for putting 100 self driving cars to the streets of Sweden's second largest city by 2017. Nissan said a self-driving version of its electric Leaf car made its first foray onto public roads.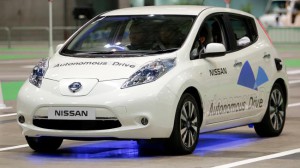 Nissan's autonomous car is based on the electric Leaf. It made a successful run in Japan, on the Sagami Expressway in the Kanagawa prefecture, southwest of Tokyo. The vehicle entered the highway at 40 km/h (25 m/h) and accelerated to a maximum of 80 km/h (50m/h).  The system, called Autonomous Drive, controlled the cars speed and steering while evaluating road conditions and traffic. It merges into traffic, changes lanes and makes adjustments to keep a safe distance from other vehicles. The information comes from cameras, laser guidance and radar. The system learns from driving time, the more it is used the better and safer it becomes.
Nissan vice chairman Toshiyuki Shiga and Yuji Kuroiwa, the Kanagawa prefecture's governor, were passengers during the car's test drive. "I feel we are very near to creating fully autonomous drive," said Shiga. Governor Kuroiwa, who gave the tests the go-ahead, said they were crucial is the car's development. "This technology is still in its infant stage. It lacks road experience, but by accumulating those experiences, the technology will further evolve," he said.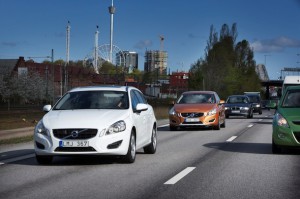 Meanwhile in Sweden, Volvo plans on starting a project called "Drive Me — Self-driving cars for sustainable mobility". It a joint project between Volvo Car Group, the Swedish Transport Administration, the Swedish Transport Agency, Lindholmen Science Park and the City of Gothenberg. The project also earned an endorsement from the Swedish government to put self-driving cars on the road. For the Drive Me project, cars will drive on approximately 50 kilometers, or 30 miles, of select roads in and around Gothenberg. The roads are heavily traveled by commuters and include motorway conditions and traffic. The self-driving vehicles to be used in Drive Me are defined as "highly autonomous cars." This means the automobile can handle all driving functions the driver requires except for time-to-time scenarios that are a bit trickier. The cars will also be able to self-park without the driver in the car. The first model to launch will be the all-new Volvo XC90, which will be unveiled in 2014.
"We aren't the world's biggest country, we aren't the world's largest car maker, but we make up for that by being smarter and working together in a simpler way," said Volvo's chief executive Haakan Samuelsson.
Autonomous driving requires more testing before becoming a legal and technical possibility in most countries. As we already pointed out, the technology is moving faster than the society is ready to accept it. Car manufacturers are coming closer to autonomous driving by adding automated features through the use of technological innovations such as cameras and computers that can carry out certain actions. Some safety experts have long said our highways would be much safer if cars drove themselves, cutting the chance of human error.