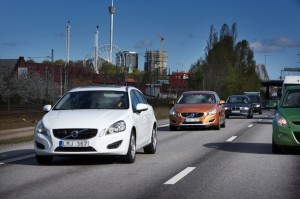 Volvo unveils transforming robo-taxi,  fully autonomous concept car that turns into a BED and an office.
The Swedish carmaker Volvo presented a prototype for a new Robo-taxi in mid-week, as the company races to meet an ambitious target for driverless vehicle sales. The model, named 360c, is a driverless, fully electric, futuristic car which could be an important part of Volvo's future strategy.
The sedan requires no human driver and comes with features so that it can be used as a living room, bedroom or work space with full mobile connectivity. The company noted it will feature Level 5 autonomy, removing the need for a human driver. With a sleek exterior that looks like a combination between an SUV and a sedan, without a steering wheel or combustion engine, the car's interior is presented as a futuristic living room, bedroom or work space, equipped with full mobile connectivity.
A video teasing the vehicle, shows passengers sleeping in a pod-like bed, holding meetings and hanging out with friends as the concept vehicle speeds down a highway.
The windows turn into screens that show relevant information.  The car will even be fitted with some kind of digital assistant.
Volvo did not mention the pricing or specs, but said it will be ready by 2021.
According to DailyMail.