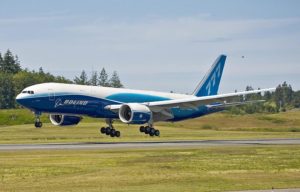 A Lufthansa Cargo plane will ferry the BMW iNEXT on a five-day tour.
In a round-the-world sprint Lufthansa will fly the iNEXT in a Boeing 777 Freighter to press events in Europe, the U. S. and China.
BMW is teaming up with the largest airline in Europe, Lufthansa, to promote its Vision iNext full-electric, highly autonomous car.
The car will be flown around the world from September 9 to September 14 inside an adapted Boeing 777F plane from Lufthansa Cargo. The Lufthansa Cargo plane will double as a showroom, hosting dozens of journalists at each stop throughout the tour. The iNEXT will be shown to the media at events in Munich, New York, San Francisco and Beijing.
Moving the entire venue across three continents seems a mission full of logistical, operational and security challenges. Converting the freighter into a mobile presentation room involves constructing a 30-ton stage, fitting the aircraft with 4.5 miles of wiring, and installing 78,000 LED lights and 10 projectors. The showroom has to be assembled at each city and then dismantled before the aircraft takes off. Switching quickly between presentation mode and flight mode must be a real challenge. Lighting systems will be secured to withstand a number of takeoffs and landings and each part must be protected against shocks and vibrations.