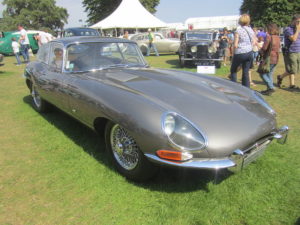 Jaguar will make an electric version of 1960s sports car, the E-Type, and it will be available to eco-conscious fans from 2020. Jaguar will also convert existing E-types into electric vehicles.
Last spring, Prince Harry and Meghan Markle drove away from their royal wedding in an all-electric Jaguar E-Type. However, it seems the E-Type is not just a concept or a vehicle available only to royalty. Jaguar has just announced it will make a series of all-electric Jaguar E-Type sports cars available for sale by summer of 2020.
The new E-Type Zero will look like the iconic 1960s sports car, with its long hood, curved roof and chrome bumpers, except that its engine and transmission will be replaced with a battery pack and an electric motor with I-Pace components. In addition, Zero comes with touchscreen navigation, LED headlights and other modern high-tech parts.
Jaguar fans who don't have an E-type but want both EV components and the original engine can even ask to obtain an original vehicle and to have it converted instead of getting the Zero version only.
More details about the new electric E-type have not been released yet but Jaguar says it is planning to achieve a 170-mile range and a 40kWh lithium-ion battery pack, which can be fully recharged within six to seven hours.
The company didn't talk about prices and obviously they could vary depending on what the buyer wants and will definitely be in the luxury vehicle range.
According to engadget.com.