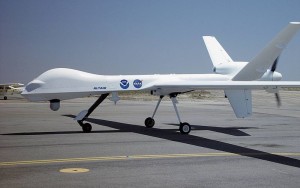 Facebook Inc said Thursday it had completed a successful test flight of a drone that will broadcast high-speed Internet.
Dubbed Aquilla, the solar-powered, internet-beaming drone is a milestone in the company's mission to provide internet access to every corner of the planet.
After two years of engineering and testing, the light-weight drone flew at a few thousand feet for 96 minutes, more than three times longer than the company originally planned. The team initially hoped the drone would fly for 30 minutes, said in an interview Yael Maguire, Facebook's engineering director and head of its Connectivity Lab.
The successful test, completed in the restricted airspace of the Yuima Proving Ground, Arizona, was announced by Chief Executive Mark Zuckerberg in a post on the company's web page.
Aquila tops the wingspan of a Boeing 737, but as the drone is made of carbon-fiber, it weighs "only one-third as much as a car", as described by Facebook, on 5,000 watts of power, or "about as much as three hair dryers." The aim of the company is to create a fleet of Aquilas that would be able to fly for at least three months at a time at 60,000 feet. The drones would communicate with each other to deliver internet access to the remote parts of the world.
Currently, Aquila runs on litium-ion batteries and is able to reach an altitude of 2,000 feet, but the company is planning to install solar panels and the flights can reach 60,000 to 90,000 feet and the drone can stay aloft for months at a time.
Although the testing flight was successful, there are a few more challenges that the team is preparing to face in order to fly a fleet of Aquilas, including making the drone lighter, getting if to fly higher. Other problem is to design high-energy dense batteries that would keep the engine running at night.
The team said the aircraft will go through several more test flights. According to Maguire, Aquilla is expected to break the world record for the longest solar-powered unmanned aircraft flight which is currently two weeks.