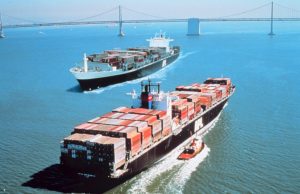 Global race to develop crewless ships leaves U.S. behind.
While U.S. was about to become a major player in the global race to develop self-navigating ships, other competitors in the field are trying to leave it behind.
Last year, chemical experts Yara and aerospace company Kongsberg announced that they joined forces to develop the world's first autonomous, zero-emissions container ship.
The ship is set to launch in a few months and expected to become fully autonomous in stages by 2020. It will first be operated by an onboard crew, then remotely, before becoming fully self-guided. The electric-powered ship will be with the capacity for 100 to 150 shipping containers.
Named Yara Birkeland after Yara's founder, the famous scientist and innovator Kristian Birkeland, the vessel will use GPS, radar, cameras, and sensors to navigate itself around other boat traffic and dock on its own. It is anticipated to cost $25 million, about three times as much as a conventional ship of similar size, but it will save up to 90 percent in annual operating costs by eliminating both fuel and crew.
The announcement of that project came along with several others over the last year have rippled through maritime circles worldwide. Along with Norway, Finland, Singapore, and China entered the competition for unmanned shipping.
Finland is testing prototypes for an autonomous ferry. China has a 225-square-mile ocean area set aside to test autonomous vessels. And Japan set a goal of having 250 remote-control cargo ships by 2025.
There are factors that hinder the commercial shipping industry to move toward autonomous vessels production like a lack of designated open-water areas to conduct testing, as well as some regulatory obstacles.
However, the U.S. is not losing the race because of a lack of technological know-how. Indeed, U.S. technology in autonomous systems is world-beating. However, it is largely confined to the military. A few months ago, the Navy took control of a 132-foot sensor-rich crewless vessel, dubbed Sea Hunter that can remain away from port for months at a time and currently there are other anti-submarine robot ships on order.
According to McClatchy.