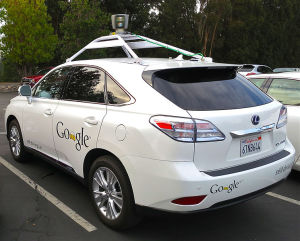 Most Americans are afraid of self-driving cars, according to a recent survey from AAA.
Three out of four U.S. drivers are afraid to ride in an autonomous vehicle, found an AAA's survey of 1,800 drivers. Seventy-five percent of Americans report feeling "afraid" to ride in a self-driving car and only twenty percent would trust a driverless vehicle. Despite this significant fear, drivers who own cars equipped with semi-autonomous systems are 76 percent more likely to trust the advanced technology than those that do not own such vehicles, suggesting that gaining experience in using these features can ease consumer fears.
The curious thing is that even though many drivers say they wouldn't feel safe in a driverless vehicle, many of them already own cars with autonomous features and consumer demand for semi-autonomous technology is getting higher.
Furthermore, the survey found that 60 percent of American drivers would like to have at least one of the following self-driving features on their next car: adaptive cruise control, automated emergency braking, self-parking technology or lane-keeping assistance. The reasons why consumers wanted these features varied by generation and to some degree by sex. Among drivers who say they want these features on their next vehicle, the primary motivation of Baby Boomers (89 percent) was safety, for Millennials (78 percent) it was more a matter of convenience, compared to older generations. Reducing stress is the reason for wanting the advanced technologies for 50 percent of women, compared to 42 percent of men.
The AAA survey also revealed the reasons why 39 percent of the drivers didn't want autonomous technology on their next vehicle: 84% believe they can drive better than an autonomous car; for 60% the technology is too new and untested; 50% didn't know about the technology and another 45% found it "annoying".
According to John Nielsen, AAA's managing director, drivers who have these features in their cars "tend to like them and trust them" and "that will go a long way" for people to start to accept the autonomous technology.
Many drivers may be hesitant to give up full control, however, over the next several years we will be becoming accustomed to all those little features like self-parking system and autopilot, until one day we wake up and realize that our cars are driving themselves as this is the most natural thing in the world.