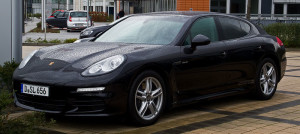 Porsche says the new Panamera 4S Diesel is the world's fastest road car.
The Porsche Panamera has been around for more than 5 years. The four-door hatchback underwent a face lifting over three years ago. However, the new Panamera, officially revealed at a lavish event in Berlin, Germany, is an all-new model. The German auto giant took wraps off the second generation Panamera, which combines a high performance sports car with the comfort of a luxury saloon. The 2017 Panamera has being systematically improved, as Porsche says, redeveloped and designed "to the last detail." The four-door sports coupe features a new design, engines and technologies. Larger and more aggressive looking, the design of the new model isn't dramatically different- the car has still distinctively recognisable Panamera styling, but finally pretty.
Slightly longer, wider and taller than the ongoing model, the new Panamera comes with a 30 longer wheelbase. The new model will be all wheel drive only and its system will be able to distribute 100 per cent of the torque to the front axle and 80 per cent to the rear axle.
The model has new LED lights that stretch across the back, a full aluminum body. The interior of the new Porsche features touch-sensitive surfaces, two seven-inch displays and a 12.3-inch touchscreen of an online satellite-navigation system. The model will have a range of driver-assistance systems, including adaptive cruise control and stop-and-go functionality for traffic jams, as well as night vision system, and updated voice control system.
The model comes with exclusively tourbocharged engines. At launch, a new engine range will be available: the Panamera 4S, 4S Diesel and flagship Turbo. The Panamera 4S will be powered by a 440 hp twin-turbocharged 3.0-liter V6, and the 4S diesel will be with a turbocharged 4.0-liter V8 that will able to reach 420 hp. The most powerful 4.0-litre V8 Turbo model will get 550hp and 770Nm of torque, and the vehicle will reach 0-62mph in 3.8 seconds and a top speed of 190mph. The new model is fitted with a eight-speed dual-clutch automatic transmission.
The Porsche Panamera will hit the showrooms in November and the car will be on sale in early 2017. The prices will start at $66,835 for the 4S, the Diesel will cost $120,000 and the top model Turbo will start from $150,000. The first cars will arrive in showrooms in November.